Baile Herculaine Founded by the ancient Romans and frequented by Empress Maria Therese in the 18th century, Baile Herculane's buildings range from the original Roman bath and the ornate Belle Epoque Neptune bath, to more modern hotels and clinics. Situated in Romania's southwest, it has more than 20 mineral springs, and is accessible by road or rail from Bucharest.


Baile Felix Named the "Spa of Happiness" by the Romans, Baile Felix, Romania's largest year-round spa is located just 5 miles outside of the western city of Oradea. This is a thouroughly modern resort using the latest methods, including electro-hydrotherapy. It has a lively international atmosphere with large hotels and nightclubs.


Sinaia In this Prahova Valley mountain resort, the air is strongly ionised and the mineral waters are effective against neuroses and digestive disorders, like gastritis and hepatitis. The town is also home to magnificent Peles castle and is an active hiking and ski resort.


Covasna Perched 1,800 feet above sea level, the town has a reputed 1,000 springs of carbogaseous waters. Treatments are especially effective against cardio-vascular desease.


Baile Tusnad A little farther north, Tusnad sits by a lake at the foot of the mountains. Its hypotonic springs have been exploited medically for four centuries. A modern treatment center is linked to the Tusnad hotel. Excursions center on the fir and oak clad mountains, with both hiking and skiing.


Sovata The resort, amid forested hills 1,000 feet high on the Transylvanian plateau, is particularly helpful for women's gynaecological ailments as well as rheumatic problems. It benefits from five lakes containing sodium chloride. Lake Ursu's saline water becomes warmer below surface and the lake bed is lined with creamy, therapeutic sapropelic mud.


Calimaneste-Caciulata These twin resorts exploit the deep hot and cold mineral water resources of the Olt Valley. They became famous in the mid-19th century when Napoleon III had waters brought from them to aid his kidney stones. Calimanesti has elegant Belle Epoque balneary pavilions, while Caciulate is entirely modern. Their remedies are best for disorders of the kidney, digestive tract and respiratory system.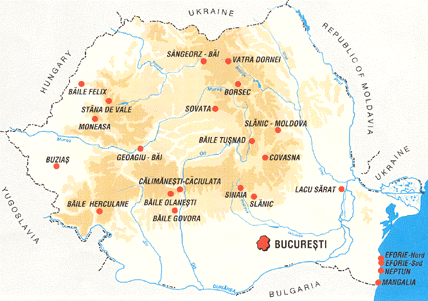 Click on map for enlarged view.